Welcome to the Lamorinda Arts Council
The mission of the Lamorinda Arts Council is to ignite and sustain artistic expression and appreciation for all ages throughout Lamorinda.
We are an engaged group of volunteers and donors who develop and produce events, partner with professional organizations and artists, give financial support and awards, and advocate for a vibrant, local culture of visual, performing, and literary arts.
Founded in 1950 as the Orinda Arts Council, the Lamorinda Arts Council has been stimulating, supporting, and advocating for the visual and performing arts in the schools and community for over sixty years. Key contributions to the schools and community include Lamorinda Idol, the High School Visual Arts Competition, Lamorinda ShortDocs Film Fest, Art in Public Places, Art Gallery at the Orinda Library, school musicals, and much more!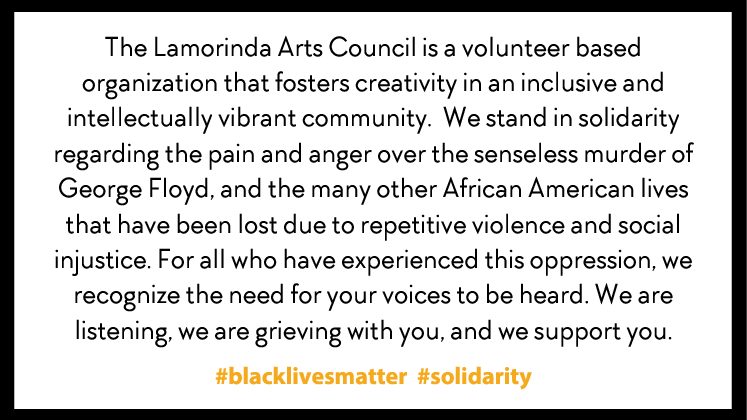 ---
Lamorinda Arts Council Gallery Schedules and Events Calendar
As California begins to reopen since the Shelter in Place mandate, we remain cautious with moving forward with our events which take place in a public forum. We are strictly following the guidelines set forth by Governor Newsom and the CDC. The Art Gallery at the Orinda Library and the Art Gallery at Wilder are currently closed but will reopen when allowed by the state and the City of Orinda. Please check gallery schedules HERE for updates on artist receptions and exhibits.
To view our Events Calendar for the latest information about events hosted by the Lamorinda Arts Council, as well as our Arts Partners and other community organizations, click HERE.
---
Thank You to the Lafayette Community Foundation!
We are so grateful to the Lafayette Community Foundation for their continued support of our Art Embraces Words program and the Art Moves Project. LAC President, Denise Nomura, and AMP Co-Founder, Christy Mack, were recently featured in a video tribute to Lafayette Community Foundation 2020 Donors. Another LAC Board Member, Lawrence Kohl, also appears in the video, representing Pacific Chamber Orchestra.
Thank you, Lafayette Community Foundation and LCF donors! Click HERE to view.
---
Creating in Place
Online Gallery is OPEN!
Call for local artists of all ages! The new Creating in Place online gallery welcomes Bay Area artists to exhibit and optionally sell their artwork created at home or in studio during the Covid-19 shelter-in-place period starting in mid-March 2020.
The online gallery "opened" on July 1, with entries ongoing at least through the end of the year. To view program guidelines and submit your artwork for consideration, click HERE.
Enjoy a sneak peek at the first few pieces in our gallery HERE!
---
Walk the Park & See Some Art on Sunday, July 12th!
The Lamorinda Arts Council invites you to get some exercise by walking the Orinda Community Center Park, located just left of the Orinda Community Center at 28 Orinda Way, on July 12th from 2:30-4:30pm. Along the way, you will see beautiful art from seven exhibitors at the Art Gallery at the Orinda Library and the Art Gallery at Wilder.
We are strictly following guidelines set forth by the CDC and the City of Orinda for safety and protection against the spread of Covid-19. Masks must be worn at all times and attendees are required to keep 6 feet of distance between non-family members. Artwork cannot be touched or handled by viewers.
Come outside to get some exercise and enjoy some artwork along the way!
---
Art Embraces Words Online Event on Sunday, July 19th!
Calling all literary-minded art lovers! Please join us for a live webinar version of our beloved Art Embraces Words program on Sunday, July 19, from 2-4 p.m. To join the session as an audience member, REGISTER HERE!
NOTE: unlike our in-person events held at the Lafayette Library, you must register in advance to receive the link to attend the Zoom webinar session.
Emerging writers will read from their work at 10-minute intervals, interspersed with visual artwork from local artists. Participating artists will be introduced and answer questions about their artwork. In this way art still 'embraces' the words. For more information, visit our website HERE.
---
Lamorinda Idol 2020
We are excited to announce the finalists in the 15th annual Lamorinda Idol youth singing program. We were unsure how participants would respond to this year's virtual format -- and we are happy to report that we had many K-12 students ready and willing to try something new! As usual, the quality of auditions was extremely high, and we congratulate all participants on a job well done.
Click HERE to view the full list of 2020 Lamorinda Idol Finalists and view their amazing audition videos!
---
Artify O
rinda - New Program!
We are excited to announce the launch of our new program to Artify Orinda! View details about our initial "artification" efforts HERE.