Orinda Library Art Gallery
The Lamorinda Arts Council volunteers to organize and curate the exhibits in the Orinda Library Art Gallery located at 26 Orinda Way, Orinda, for the City of Orinda. The shows primarily highlight local artists or displays of educational/community interest and are changed every month. Receptions are held at the Orinda Library Gallery.
Artists intersted in exhibiting should visit the Instructions for Exhibitors page.  We are currently booking the walls for the fall of 2020 and the glass cases for 2018.
---
June in the gallery
Botanical Art from Alcatraz, Photography, and Glass Art
Saturday, June 3: Artists Reception and Special Presentation by artists Lyn Dahl, Sally Petru and Catherine Watters about their Alcatraz Florilegium project
Presentation in the Orinda Library Auditorium at 3:00 pm, followed by Artists Reception from 3:30 to 5:30.
This month the Lamorinda Arts Council presents drawings and paintings done by members of the Northern California Society of Botanical Artists (NCaLSBA), Lucy Beck's photographs, and Cindy Whitchurch's glass art through June 30 at the Orinda Library Art Gallery.
Beck is showing about 20 works, most of them botanicals. Much of her work has a painterly quality because she often prints her photographs on Japanese Washi paper.
Whitchurch is exhibiting 35 pieces which display her technique of giving fused glass the look of blown glass.
The botanical artists of NCaLSBA visited the island of Alcatraz to obtain plant samples to create the drawings and paintings  that comprise the florilegium that they are displaying. A florilegium is a collection of drawings of the plants that exist in a particular location.  On June 3rd at 3:00 pm, three of the featured artists, Lyn Dahl, Sally Petru and Catherine Watters, will host a presentation about the project that includes a question and answer period. The artists put in 50-100 hours for each of their 127 drawings and paintings of "survivor plants" on Alcatraz. These plants date back to the Victorian era when the island was first used by government. Volunteer gardeners took ten years to clear weeds and debris from the old gardens that revealed a legacy of floral beauty for all to enjoy.
Contributed photos
Pictured Above: Catherine Watters, "Apple Tree" (Malus cultivar),
16" x 20", watercolor on paper.

Lucy Beck, "Spring Garden", 24" x 18", photograph on Japanese Washi paper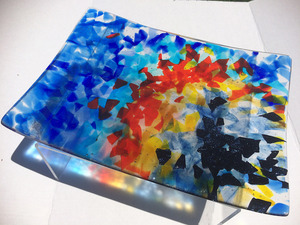 Cynthia Whitchurch, "Fire in the Sky," 15.5" x 11.5", fused glass
---
May Exhibit: Pam Glover and Glover Plein Air Group
Pam Glover taught painting for twenty-five years at the Orinda Community Center. Thirteen of her works will be on display this month and can be found in the small glass cabinet of the gallery. 
By special arrangement, these works will also available for purchase through the Lamorinda Arts Council.  Click here to purchase one of these one of a kind pieces of history.
In addition, fifteen of the twenty members of the Glover Group are exhibiting a total of fifty plein air paintings throughout the rest of the gallery.  Former students of Pam Glover, the members of the Glover Group go on location in the open air to paint their works in her tradition.
Gallery Hours: The gallery is open during normal library hours. Monday through Thursday, 10:00 a.m.-8:00 p.m., and Friday and Saturday, 10:00 a.m.-6:00 p.m. Sunday it is open 1:00 p.m.-5:00 p.m. The library will be closed on May 14 and May 28-29. Call 925-254-2184 for more